Jon Dysard is no stranger to the local hunting scene in Huntingdon County, PA. In fact, he was a member of a hunting camp located about several miles from his home for 55 years before purchasing the land more than a decade ago. Since then, Jon has been enjoying his daily walks on the 386 acre property with the many resident deer—who seem to look forward to his visits.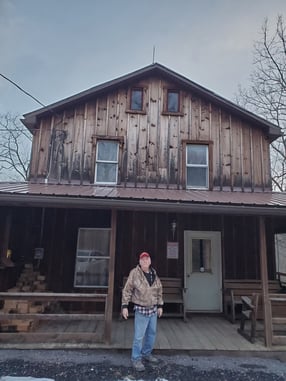 Jon Dysard, owner of Dysard's Machine & Electrical Service, in front of his camp in Huntington, PA.
But for a long time, the retired mechanic and well-known business owner wasn't sure how he would keep up with the maintenance of the property, or his second 240 acre camp, located just a few miles away.
"I've always looked for help to do work on my properties but could never get a penny," Jon says, recalling the times he'd pursued other programs but wasn't able to get financial help for the maintenance he wanted to do.
Jon wanted a program that provided funding that allowed him to grow his trees—mostly a mix of oak and hardwoods—while improving wildlife habitat and overall forest health.

"My main objective is to make the place as nice as possible for wildlife. To keep wildlife there, so I can enjoy seeing it."
In August of 2020, Jon's luck finally changed. He was scrolling through Facebook when he came across an ad for WoodsCamp, a free tool that matches landowners with forestry programs and services in their area.
He found his property on the WoodsCamp map, requested a free woodland report, and called the number to speak to a WoodsCamp representative for Pennsylvania.
"It was such a pleasure talking with Jon and learning about his passion for his trees and the wildlife that call his woodland home. I was impressed with his dedication to being the best steward possible, and to understanding how the Family Forest Carbon Program complements his goals," says Andrea Lutz, the Landowner Success Agent who connected with Jon on the phone shortly after he received his report.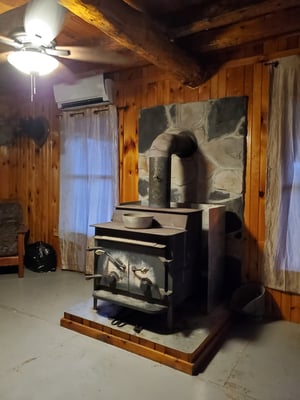 The lodge of Jon's hunting camp was built in the early 1800's and still features the original pine rafters cut and squared by hand with an axe.
After speaking with Andrea, Jon immediately knew that the opportunity listed on his WoodsCamp report—The Family Forest Carbon Program (FFCP)—was worth looking into.
"The Family Forest Carbon Program offered to cover my expenses — provided I didn't cut the timber."
At Jon's request, Andrea had the FFCP team reach out to the local forester who Jon had known for a long time and worked with to do a select cut several years prior. The forester agreed to learn more about the Family Forest Carbon Program and quickly became approved to handle Jon's project planning to get him enrolled.
"I asked if I could work with someone I knew and trusted, and they made it happen," says Jon.
But that wasn't the end of Jon's due diligence. Like many landowners, Jon is protective of his land and wanted to make sure he fully understood what he was signing up for. He says he asked a lot of questions of both the FFCP team and his private attorney, and even requested to speak with a fellow landowner who had recently enrolled in the program.
"He called me, I didn't even have to call him. Which I thought was pretty great," says Jon of a fellow landowner and FFCP participant who shared his experience enrolling in the program to help put Jon's mind at ease.
Once he had spoken to a peer, Jon turned his focus to reviewing the contract and seeking a professional opinion from his lawyer.
"I went over the contract again and again, and then I had the attorney look over it. He wrote a letter stating a couple things he wanted me to be aware of, and so I asked those questions of the FFCP team, and they answered all of them," explains Jon.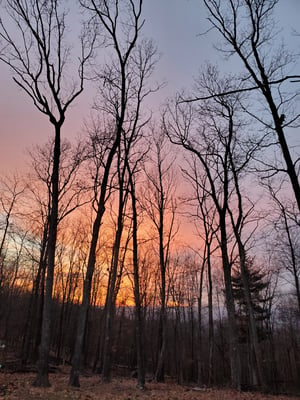 The sun rising over the trees on Jon's property.
As a retiree, he was thrilled to have found a way to pay for the upkeep of his property without paying out of pocket, or dipping into his retirement fund.
"It's going to maintain the place for 20 years, pay my light bill, insurance, and taxes. Plus a little bit left over for other things I might want to do [on the land]."
Since enrolling in the program in October of 2020, Jon has received his first payment, and encouraged a neighbor to sign up as well. Jon's next project is getting his second piece of land enrolled, followed by two properties owned by his son and daughter.

"It's amazing. I'm just so tickled this program came about. If people want to call me, I will tell them how crazy they are if they don't do it." — Jon Dysard, Huntingdon, PA




---
About the Family Forest Carbon Program
By the Numbers
The American Forest Foundation found in a 2020 study that 86% of landowners want their forest land to stay wooded. However, many landowners were not able to do so: according to the 2018 USDA Forest Service National Woodland Owner Survey, 30% of family forest owners conducted a timber sale in the last 5 years, and an even higher percentage intended to conduct a timber sale in the next 5 years. In addition, only 11% of landowners have a forest management plan, and only 18% of acres received professional advice.
That's where the Family Forest Carbon Program comes in to work with family forest owners to ensure meaningful and lasting carbon sequestration and storage to help address our climate crisis. FFCP recognizes that forests provide the most significant pathways among natural climate solutions to addressing climate change, and that family-owned forests offer the biggest untapped opportunity to sequester more carbon. The solution is for the Family Forest Carbon Program to connect family forest owners with
trusted information and professionals, and pay them for implementing
carbon-positive forest management practices.
In less than a year, the FFCP pilot program in 16 counties in PA has resulted in:
5,000 acres of forest enrolled

$1.5 million committed to Pennsylvania family landowners

A whole host of environmental co-benefits secured for the future – including climate change mitigation, clean water, and wildlife habitat.
But that doesn't mean the program is always an easy decision for landowners. For some landowners, committing to the program means answering questions they hadn't considered before, such as what will happen to their land when they die or are no longer able to care for it.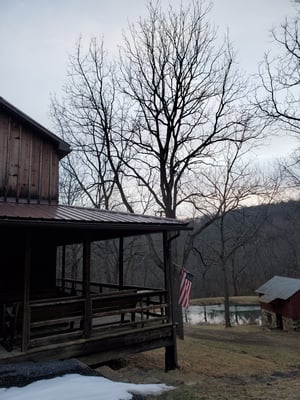 A corner of Jon's hunting camp, featuring a pond he built to encourage wildlife.
Others are hesitant to sign a contract, having had bad experiences with contractors or other organizations in the forestry sector in the past.
Individual Attention for Family Forest Owners
With that in mind, the FFCP team is ready to work one-on-one with landowners to hear and alleviate any concerns.
"We know landowners can be skeptical, and everyone's goals are different," says Elizabeth Vranas, Senior Manager of Project Development for the Family Forest Carbon Program. "So we work very hard as a team to be transparent, answer all their questions, and ensure the program is truly a good fit for them and their goals for their land."
Jon is also doing his part to reassure other landowners and encourage them to participate.
"You're still in charge of your land and can continue to post it as private property. No rights are taken away from the landowner, and you can still remain in other programs such as Clean and Green," says Jon, reiterating that anyone who would like to talk to him about the program should not hesitate to get in touch. Contact our team using the information at the bottom of this article and we will connect you with Jon.
And at the end of the day, no matter which program the WoodsCamp tool matches you with—whether it's FFCP or another opportunity for your woodland—it's up to you what happens on your property.
At WoodsCamp, our goal is to help you achieve your goals for your land.
If you're like Jon, that means walking in the woods with your deer, for many years to come.