Debbie and Tony spent 25 years in the greater Washington, D.C. area balancing the hectic load of work and family. When it came time to retire, they were ready for something a little slower and simpler for the next phase of their life.

Luckily, they had an option in the beautiful rolling hills of western Pennsylvania.

There sat a plot of almost 200 acres that had been in Tony's family since 1813. The land had been a number of farm operations, before becoming less active and simply leased open space. The 120 acres of forest was seen as largely uncharted territory. Tony and Debbie received the property in 2013, becoming the sixth family generation to own it.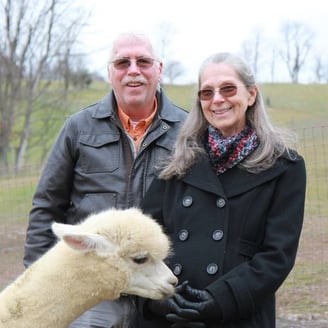 When it came time to retire in 2021, Tony and Debbie had a plan. The farm was going to be the centerpiece of their retirement adventure. They wanted to revitalize the place, change it from a place of financial burden to a place that pays its own way. Alpacas turned out to be the key. Alpacas personify the lower stress life that Tony and Debbie were seeking; perfect livestock for building a small, sustainable, family farm, combining both work and fun.

In 2020, they purchased a group of 6 huacuya alpacas, building their herd to 19 in just over a year. They worked with local contractors for shearing and spinning the wool into yarn. To help bring customers to the farm, they connected with Harvest Hosts, a nationwide network of RV travelers that visits farms, wineries and breweries on their journeys. Those travelers were quick to point out the natural beauty of the farm, the rolling hills, the cleared fields, the woodlands and the wildlife that lived there.


Raising alpacas has been fulfilling after their many years in the big city. But agritourism had not, thus far, been able to make the farm self-sufficient. They were worried whether the alpacas and their products will be able to provide enough revenue to maintain itself.

That's when they found the Family Forest Carbon Program.

As farmers they had been focused on their open land; they had not considered the potential of the 126 acres of the property that had trees. But after seeing an ad, they had a forester with the carbon program, Nate Hartley, come out to the property. Trudging up the hillsides, Nate took Tony to parts of the property where he had never been. He learned they had maple, oak, walnut and a host of other good hardwood tree species. Mostly middle-aged trees, the forest was an incredible asset, and would be even more valuable with a couple more decades of growth and some improved forest management.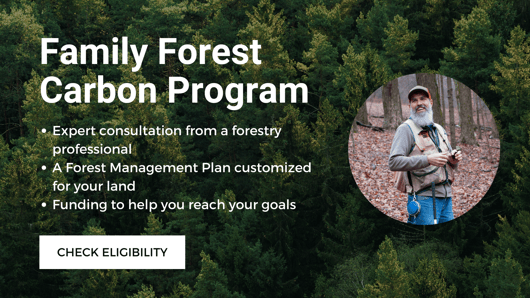 Nate proposed that the Wambaugh's would be a great fit. They could enroll in a 20-year contract to be paid on a regular basis to implement the practices which would help the long-term health and value of their trees, as well as support the farm overall with an additional revenue stream. They decided to commit, knowing the farm was something they were in for the long haul.

Overall, they have been pleased with the program. The payments have helped pay for property taxes and purchase more alpacas. They have been inspired to see their trees in a new light. They are even looking at how they can tap the sugar maples for syrup.

"The Family Forest Carbon Program is a great opportunity to get a forester on your property and to change your view of your trees, to truly see them as the asset they are."

Written Elizabeth Greener, Director of Communications, American Forest Foundation
Originally published November 22, 2021 on The American Forest Foundation blog