Would you like to improve the health of your woods while contributing to cleaner air and water? What if you could do this at little to no upfront cost, and could also realize some new income from your woodland each year?
The new Family Forest Carbon Program (FFCP), developed by the American Forest Foundation and the Nature Conservancy (TNC) and currently being offered in Maryland, Pennsylvania, and West Virginia, is designed to do just that.
U.S. forests currently offset more than 15 percent of the United States' annual carbon emissions, but there's lots of room for improvement. The better managed the forests, the more carbon they're able to sequester.
Companies that want to reduce their carbon footprint are already buying forest-linked carbon credits, but to date, this opportunity has only been available for landowners that own 5,000 acres or more. Meanwhile, about 36% of forest lands in the U.S. are owned by families, but the size of these forests usually ranges between 20 and 1,000 acres. In addition, current carbon offset programs are complex, have high upfront costs, and lock family forest owners into generations-long contracts.


The Family Forest Carbon Program has been designed to remove these barriers. It brings together family forest owners, companies, and local NGOs to address climate change together.
Landowners who qualify for the program will receive incentive payments to help plan and implement sustainable forest practices that increase the carbon storage on their properties. In addition, the program requires only a 10-year or 20-year commitment, depending on the practice best suited for your forest. FFCP also handles all the administration of carbon credits, so forest owners are only responsible for implementing the practice.
For companies looking to reduce their carbon footprint, FFCP will offer the chance to purchase verified carbon credits and provide them with the opportunity to support rural American families by investing in forest carbon projects designed specifically for small woodland owners.
It's a win for family forest owners, for businesses, and for the climate, and we're not the only ones who think so! The program has received a lot of attention in the press, including articles from YaleEnvironment360, Bloomberg, Sustainable Brands, and Conservation Finance Network.
How do I know if my woodland qualifies for FFCP?
Click below to find your property on the WoodsCamp map and find out if you qualify for the Family Forest Carbon Program, or another local opportunity.


What's WoodsCamp Got To Do With It?
We're glad you asked!
Woodscamp is a free online tool, provided to landowners by the American Forest Foundation. Our team at AFF, along with their partners at the Nature Conservancy, worked hard to develop the Family Forest Carbon Program. When all the i's were dotted and the t's crossed, they needed a way to reach landowners who might be qualified.
Enter: WoodsCamp.
Once landowners have selected their property on our map and answered a few questions about their goals for their land, our tool gets to work determining which local programs they are likely eligible for. In Maryland, Pennsylvania, and West Virginia, we're matching hundreds of family forest landowners with FFCP. Click here to find out if you're eligible!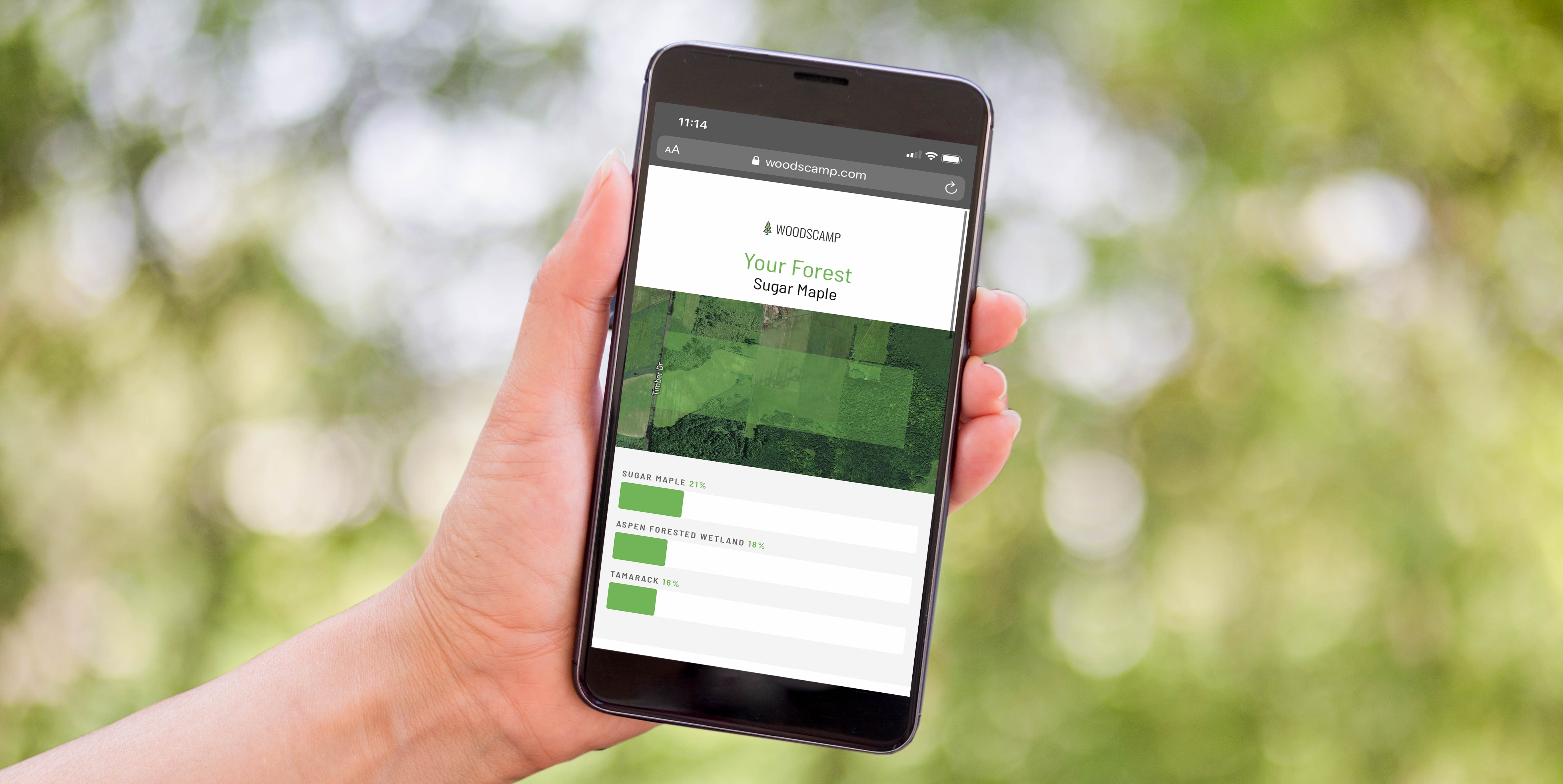 We then reach out to landowners via phone to tell them more about the program and connect them with a local forester, should they wish to schedule a visit.
Long story short, WoodsCamp provides landowners an easy way to know if they are likely to qualify for the Family Forest Carbon Program, as well as other local resources.
Central Appalachians Program
The Family Forest Carbon Program is in Pennsylvania, West Virginia, and western Maryland.

FFCP has two sustainable forest practices for which landowners can qualify — Growing Mature Forests and Enhancing the Future Forest. (See details about each in the FAQs below.)
As the Family Forest Carbon grows and establishes its place in the market, AFF and TNC plan to expand this program's opportunities to landowners in additional regions.
If you own at least 30 acres of forest land in our eligible area with Pennsylvania, Maryland, or West Virginia, you may be eligible for the Family Forest Carbon Program.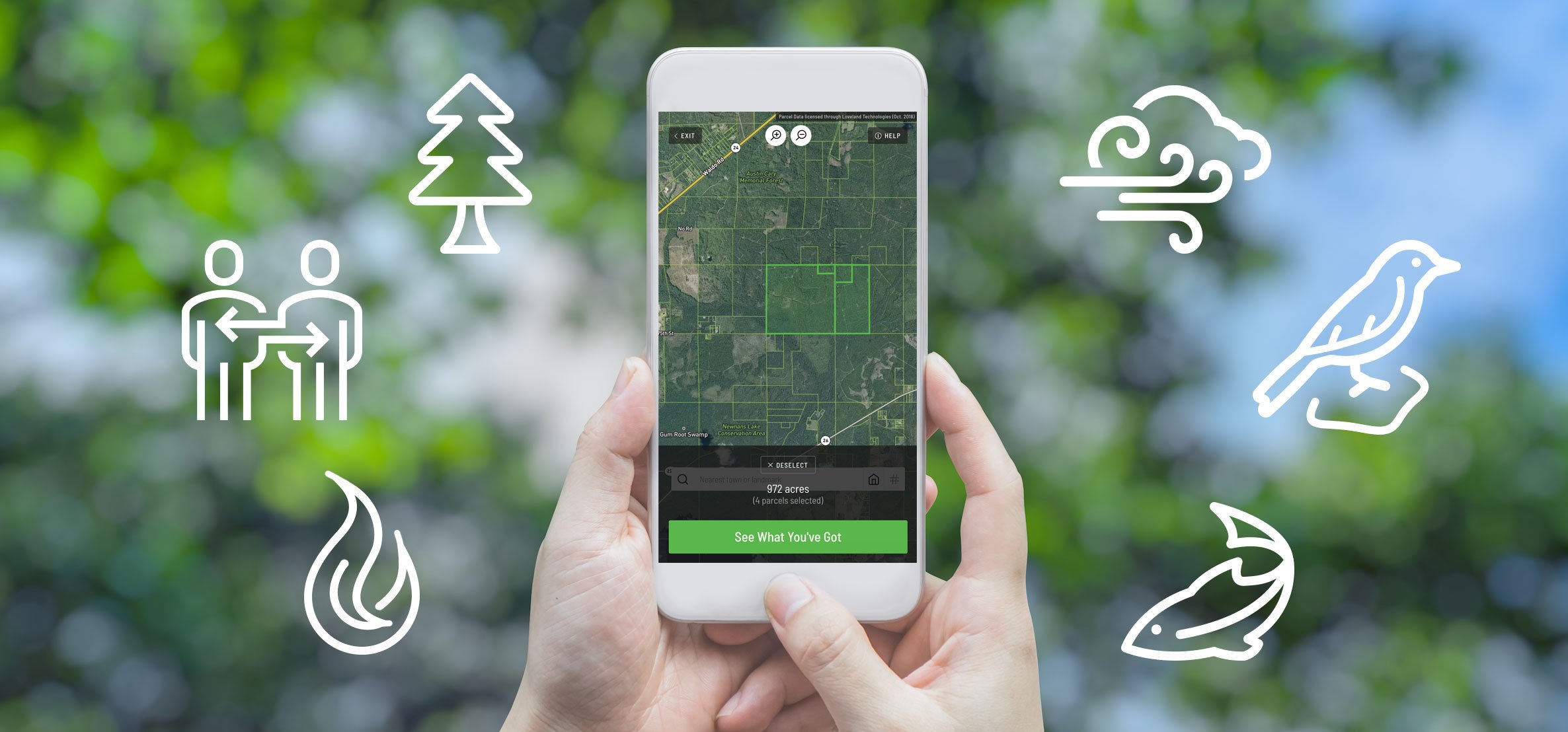 Tell Me More
Check out these FAQs below for answers to some of your initial questions about the program.
What practices would I have to do on my woodland to be part of the program?
Participating in the program involves committing to one of the following two practices:
Growing Mature Forests provides expert consultations with forest professionals, management plans that are customized for your unique goals for your land, and funding to help you reach your goals.

Had a recent harvest on your land? Enhancing Future Forests shares the costs to remove invasive and unwanted plants to help your next generation of trees grow.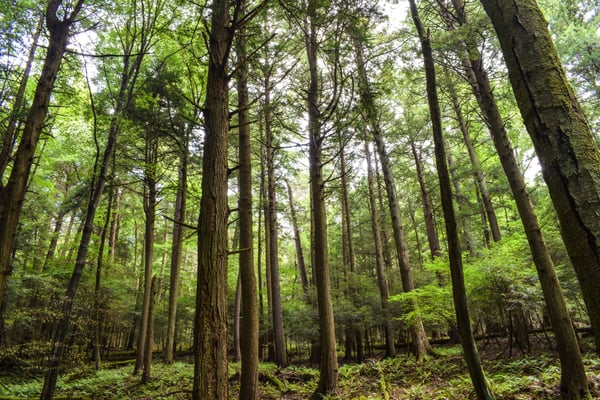 How much and when will I get paid?
The Growing Mature Forests practice is a 20-year commitment. Owners will receive anywhere from $100-$230 per acre, depending on their number of board feet per acre.
Learn more on the Growing Mature Forests webpage.
The Enhancing the Future Forest practice is a 10-year commitment. Compensation depends on how much competing vegetation your land has at the time of enrollment. A light level of competing vegetation ($50 per acre) requires less work than a medium level ($110 per acre) or a complex area ($280 per acre.)
Learn more on the Growing Mature Forests webpage.
How much does it cost to have a forester visit my woodland?
Our on-staff forest professionals offer free woodland visits.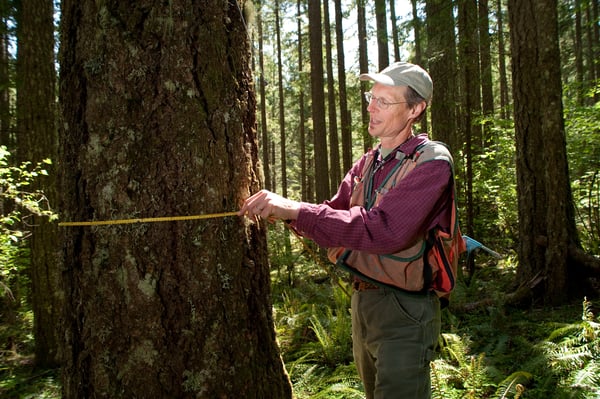 Why do I have to sign a contract to enroll in the FFCP?

The Family Forest Carbon Program gets its funding by selling carbon credits to businesses, which requires calculating and verifying the carbon sequestered by participating landowners. The contract ensures that the FCCP has those rights and that the landowners will follow the practice specifications.
How long is the contract agreement?
The Growing Mature Forests practice is a 20-year commitment.
The Enhancing the Future Forest practice is a

10-year commitment, with an additional 20 years of providing property access and carbon rights to FFIF.
What happens if I sell or transfer the ownership of my land?
The new owner will have the option of signing the contract and continuing where you left off to receive the remaining payments. If the new owner doesn't want to participate, you will have to pay back all of the money received under the contract so far, plus interest, plus a fee to help the program recover its costs.
What happens if a natural disaster or invasive pests destroy part of my woodland?
Landowners do not have to repay funds they've already received, but depending on how much destruction takes place, your agreement may be canceled, in which case no further payments will be issued.


What will this program cost me?
The FFCP has been designed to eliminate or significantly reduce your out-of-pocket expenses.
The Growing Mature Forests practice should not cost you anything; the payments are designed to help cover the costs of the initial management plan and the 10-year plan update.
For Enhancing the Future Forest, the practice payments should cover most of the cost of removing competing vegetation. If it's difficult to control this vegetation, you may have some out-of-pocket expenses.
Having said that, the increased value of the timber should help you pay for any uncovered costs with either practice.

Will I have to pay taxes on my payments?
You may need to pay taxes on the payments you receive through the Family Forest Carbon Program. We suggest that you talk to a tax professional to learn more about this.